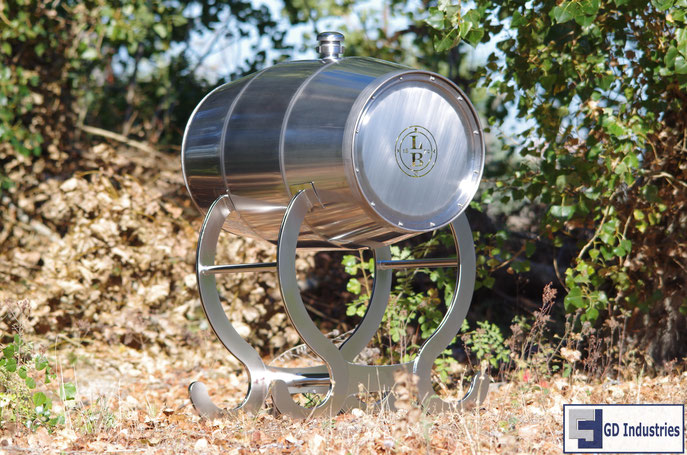 Since we commercialize our stainless steel barrel, we always allowed the adaptation of our product to winemaker's needs. It's the high quality desired by the Champagne winery Leclerc Briant which led us to design with the latter a specific model: a stainless steel barrel with an internal coating in 24-carat gold with his personal base associated.

Gold purity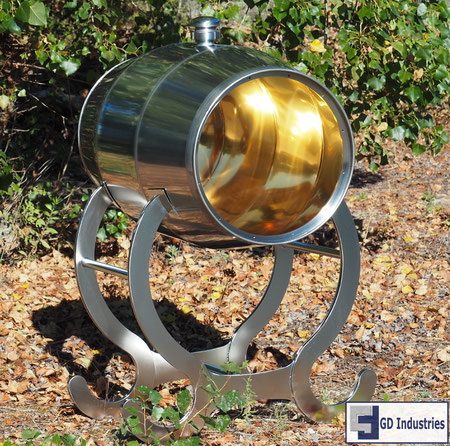 The willingness to vinify in contact with gold came from a biodynamic approach from the winery Leclerc Briant, as Hervé Jestin (consultant for the winery) points out: 

"Gold is always associated to the Sun, it represents perfection and fire. In the biodynamic approach of winemaking, Gold is associated to the Fire element, to alcoholic fermentation's Fire. There is a strong resonance between Gold and Wine during this winemaking process.
Gold is a powerful symbol of Purity, a strong quality in Champagnes Leclerc Briant.
We wanted to make a fermentation in contact with Gold to take advantage of this metal's resonance with the fermenting environment.
Gold is also associated to elevation and that's precisely what we are searching for during our aging process.

The idea is to enhance the best parcels vinifying in contact with the purest material ever made to bring to light the high quality of the terroir. For that purpose we had to adapt our barrel which resulted to a registration as design both from Leclerc Briant and our company.
A specific design
Gold is very malleable when it's pure: this feature allows to make very thin golden layers measured in microns, in thousandth of a millimetre.
This malleability is a problem when you have to make a material like a jewel for example: any shock would deform our item. That's why we mix gold with silver, copper, palladium... To ensure jewels' resistance.
In jewelry carat is used to give the proportion of gold in an alloy. Pure gold is 24 carats.
This stainless steel barrel with a golden internal coating was designed to establish contact between must and pure gold: we didn't wanted an alloy. For that purpose we designed a stainless steel rigid hull and we applied a 24-carat gold internal coating made by electrolysis.

The coating is only applied inside: we couldn't use the usual way immersing our barrel in an electrolytic bath. Moreover our 228 litres is too large for these baths. We had to create the bath inside of the barrel. For that purpose we had to design a removable bottom without losing hermeticity.

Future results
This barrel with golden internal coating will be used by the winery Leclerc Briant for 2016 harvest. While awaiting for the oenological results you can discover this model in our stand during Vinitech fair in Bordeaux, France, from November 29th to December 1st!